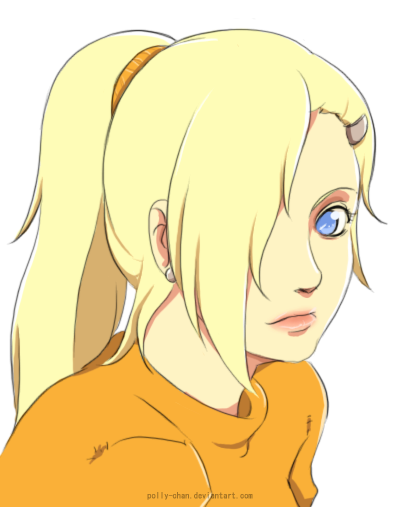 ~>)Misaki Yamanaka(<~
Age : 16
Height : 5'4"
Weight : 109 lbs
Hair Colour : Blonde/Goldenrod
Eye Colour : Silky Blue/Sky Blue
Blood Type : A+
----------------------------------
Clan : Yamanaka
Bloodline : N/A
Rank : Academy Student / E
Elements : Light / ???? / ????
Ninja Tool bag : 3 kunai, 3 shuriken, 2 explosion tag, 1 smoke bomb, 2 Ninja wire, 1 Windmill shuriken, 2 Caltrops, and 1 poison smoke bomb, 1 millitary ration pill
-----------------------------------
As a child, she was always looked down upon from her clanmates, being the only Yamanaka that enjoys darker colours, and doesn't care too much about her appearance. Her mother, being an ANBU, was never at the house, and her father was busy running a local shop in the village, leaving her to take care of her younger brother alone most of the time. Her mother had expected her to become a shinobi, to live up to her clan's name, and to protect the village along side herself. Because of this, Misaki had decided to join the shinobi ranks, while taking care of her brother, making her life a full-time job. Determined to impress and surpass her mother, she continued to struggle to become a shinobi, doing whatever it took to get what she needed to attain rank in the shinobi world.
------------------------------------
Clan Ninjutsu
Shinjukutatsu(Mind mastery): From early in life Yamanaka train their minds to a superior level and as they grow in experience so do their mind controlling skill.
Level 15+: +0 to on clan jutsu
Level 25+: +1 to on clan jutsu
Level 35+: +2 to on clan jutsu
Ishinden (Telepathy)
Rank: Unranked
Type: Ninjutsu
Chakra cost: 2
RP Description: The Yamanaka clan is known for their mind-communicating methods. From early in life they train themselves to be able to communicate in between themselves from distances.
PVP Effect: None, this is RP only.
Ninjutsu
~E~
Ball of Light Jutsu
Jutsu Type: Ninjutsu
Rank: E
Cp: 1
Description: creates a small orb of light which flashes like a strobe light, hurting the targets eyes.
PvP Effect: 1d4 damage
Bunshin no Jutsu (Clone Technique)
Jutsu Type: Ninjutsu
Rank: E rank
Cp: 4 + 2 per round maintained
Description: This is a basic technique known to all Genin. Bunshin no Jutsu creates a clone of the user, which can used to create a diversion or cause confusion. Unlike Kage Bunshin no Jutsu (Art of the Shadow Doppelganger), these clones aren't real, and thus cannot do any damage.
PvP Effect: As long as the bunshin is maintained when being attacked the attacker must roll 1d6. On a 1-3 the bunshin is attacked, on a 4-6 the real target is attacked.
~D~
Beam of Light Jutsu
Jutsu Type: Ninjutsu
Rank: D
Cp: 3
Description: The user flips through several handsigns, ending in Dragon, then points his palms at a target, firing a burst of concentrated light at the foe, searing the flesh it touches.
PvP Effect: 1d10 damage
~Scroll taught: Mithrajin~
~C~
~B~
~A~
~S~
Genjutsu
~E~
~D~
~C~
~B~
~A~
~S~
Taijutsu
~E~
~D~
~C~
~B~
~A~
~S~